Let's find and progress your candidate together.
Boost the advancement of your pipeline by screening your therapeutic products in our relevant 3D biological models of human physiology and complex diseases.
Leverage on BiomimX®'s expertise and strong scientific know-how, proprietary uBeat®-powered human models and reliable assays to get your product profiled.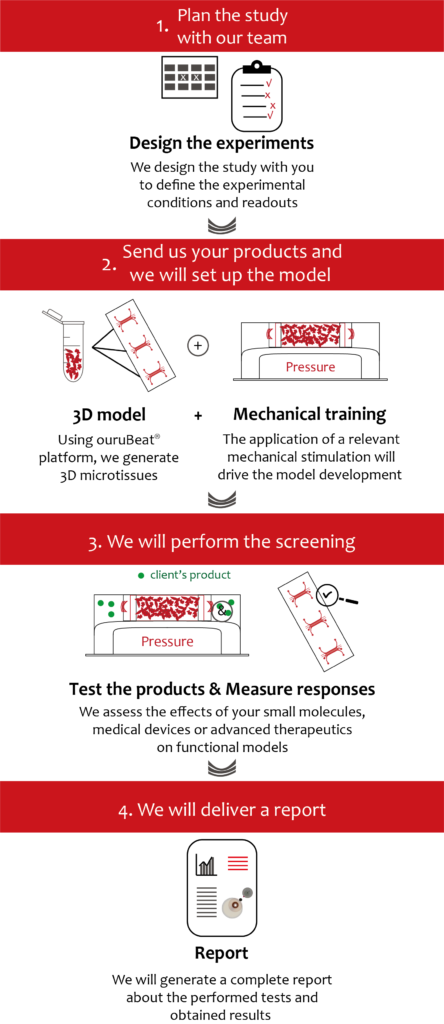 Early lead optimization: exploit our in vitro models of complex diseases and our packages of clinically-relevant biomarkers to prove the efficacy and unravel the mode of action of new therapeutic targets directly on a human setup.
Safety and Absorption: de-risk your pipeline by selecting the right molecules to be advanced in the expensive and time-consuming regulated preclinical phase. Select early the most promising products based on relevant and reliable data on safety and absorption assessed from our uBeat®-powered models.
Preclinical-to-clinical trials translation: relying upon the similarity of our models to the human tissue environment, we can help in choosing which preclinical candidates to bring into clinical trial, when animal tests would give uncertain or poorly informative outcomes.
Drug Follow-up and Repurposing: take advantage of our uBeat®-powered models to identify mechanism behind unexpected clinical safety issue, uncertain modes-of-action and new uses for approved or investigational drug.